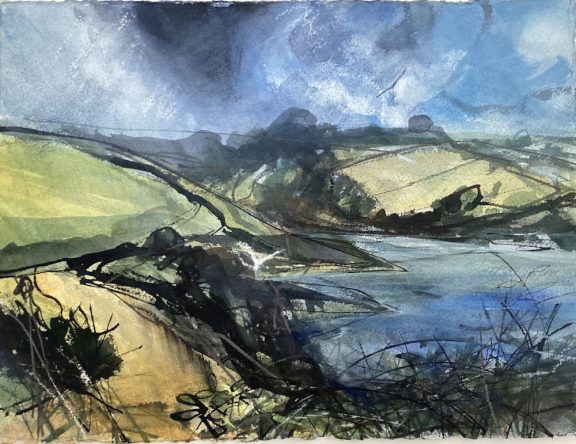 Katharine Holmes – Works on Paper 2023
Katharine Holmes (b.1962) is best known for her paintings and drawings of her native Yorkshire landscape.  She has exhibited in solo and themed exhibitions at Gavagan Art in recent years. A graduate of the University of Newcastle upon Tyne she returned in 1990 to live and work in the Yorkshire Dales. She paints outside in all weathers and currently works from her studio at the Malham cottage where her mother and grandmother lived and painted before her. In June 2009 an exhibition was held at Leeds University of paintings and drawings as part of a large retrospective exhibition, "A Malham Family of Painters".
Grandmother and Granddaughter
Although Constance my grandmother, mostly worked outdoors in watercolour she also worked in oils, and worked from a studio/ bedroom at High Barn Cottage. This same room is now my studio. Occasionally I think back to the 1960's, when as a small child three generations of the family lived at High Barn Cottage.

Beyond home and the familiar Katharine Holmes paints the wilder fringes of Britain and Ireland especially the Highlands and Islands of Scotland and South West Cornwall. Widely exhibited and collected, her work is in many private and corporate collections.
Read more