Broad Horizons – Ceramic Exhibition – Work by James Hake & Edward Hughes
20-10-18-22-12-18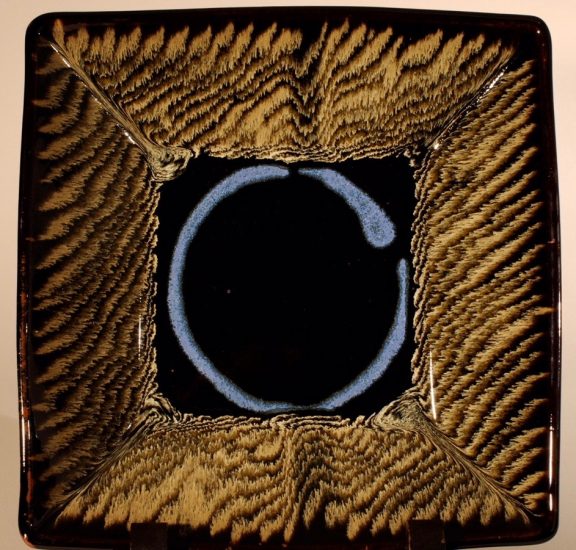 Edward Hughes Ceramic Square Dish
Broad Horizons
 A Joint exhibition of work by potters Edward Hughes and James Hake was held at Gavagan Art in the autumn of 2018. Edward Hughes (1953 – 2006) was one of Britain's very finest potters. Highly regarded in Japan and represented in national collections here in England.
In 2018 James who is based in Carnforth Lancashire wrote in Ceramics Review Magazine about the influence Edward Hughes had on his work.
When I tried throwing for the first time at university, I became obsessed by the technique. My tutor, probably trying to broaden my horizons, encouraged me to visit The Japanese Craft Tradition: Kokten Korgei, a 2001 exhibition at the Blackwell Arts and Crafts House in my native Cumbria. It featured potters such as Shōji Hamada and his British counterpart Bernard Leach, and was my first encounter with Japanese ceramics – it immediately struck a chord. English potter Edward Hughes (1953–2006) was also included in the exhibition, and from this first encounter he has remained a constant touchstone for me.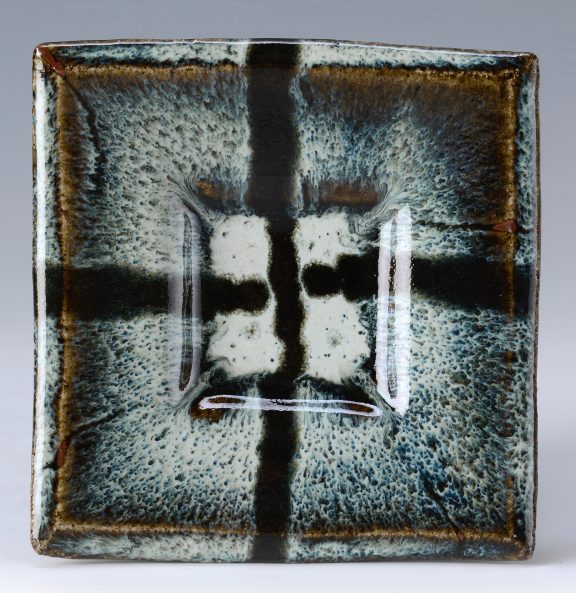 James Hake. Square Dish 15cm. Nuka and Tenmoku glaze. 2013
James Hake
James makes a range of ceramic stoneware, thrown at the potter's wheel. He also produces slab rolled work including wall hangings and square dishes. James studied 3-Dimensional Design at  Manchester Metropolitan University specialising in ceramics. Following graduation he attended the Craft Council's Pottery Skills Course in the Republic of Ireland where he trained for two years. On his return to the Lake District in 2005 he established 'James Hake Ceramics' and now supplies work to both local and national galleries, as well as undertaking commissions.
Taking inspiration from Oriental ceramics, I have developed a palette of my own glazes. These range from subtle Shinos, to rich, dark Tenmokus and Copper Reds. Glazes are applied quickly by dipping and pouring in different combinations, which fuse together in the heat of the kiln. I am always adapting and experimenting with glaze, searching for different colours and textures to complement ceramic form. Currently I am investigating using local materials from quarries, clay seams and wood ashes in my glazes."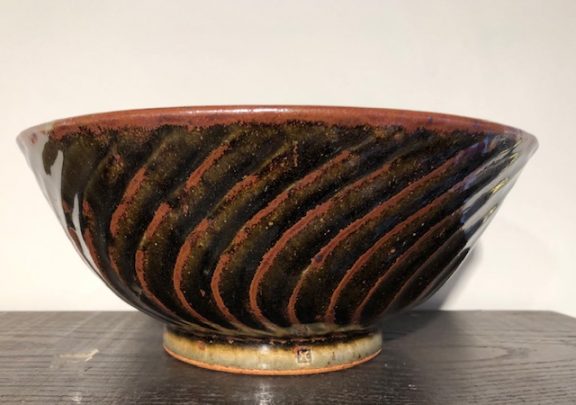 Edward Hughes 1953 - 2006
The potter Edward Hughes is considered to be one of the masters of the Anglo-Oriental stoneware tradition. Examples of his ceramics are in private and public collections including the Victoria and Albert Museum London and The Ashmolean Museum Oxford. Born in Wallasey, Edward studied at Lancaster Royal Grammar School, Cardiff School of Art, Bath Academy at Corsham Court and then worked with Ray Finch at Winchcombe Pottery in Gloucestershire. In the late 1970s he spent two years at art college in Kyoto and in 1979 held his first solo exhibition in Japan. He established a studio with his wife Shizuko in rural Shiga, and held successful shows in Tokyo, Osaka and Kyoto returning to England in 1984. Edward and Shizuko settled in Cumbria near Penrith, later establishing a pottery studio at Isel Cumbria. Exhibitions of his work were held in Cumbria, Lancaster and London though ninety percent of the work went to Japan. Edward died in 2006. Emmanuel Cooper former editor of Ceramics Review wrote of Edward:
Like his work, Edward Hughes was quiet and thoughtful. Assured and confident of his own pots and of their significance, he rejected the idea of the individual piece as special, seeing all pots as important and just as demanding on the maker, whether a teacup and saucer or a large dish. True to his direct, unpretentious approach, he preferred to be known as a potter rather than as a ceramist or artist, a commitment that reflected his deep involvement in his work and his belief that pots were made to be used and enjoyed.

Samples of work still available from this Exhibition. For more work available by each artist, click on their name above.
Work available in this Exhibition