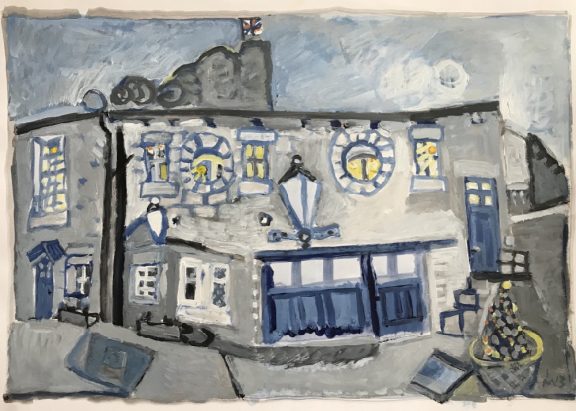 Milan Ivanic. The gallery at Linton Court Settle 2014. Watercolour.
About us
Gavagan Art curates and presents a programme of Modern British and Contemporary Art events each year.
Gavagan Art was established in 2010, in the Dales town of Settle in North Yorkshire, in a gallery which had been converted from a hayloft in the early 1980s. We revived what had been a highly regarded venue that had stood vacant for seven years. When the building was redeveloped in 2015, we moved to the refurbished Town Hall, a Gothic Revival building in the centre of the town. Temporary exhibitions of both emerging and established artists and associated events were held at the Town Hall gallery until 2020.
Like many cultural organisations and galleries, Gavagan Art was affected by the pandemic. In the autumn of 2020 after a successful exhibition of work by Lancaster based artist, Milan Ivanic, and the redesign of the gallery, plans were in place for a new exhibition season. This was halted by the national lockdown. Eager to keep connected with our artists, contacts and visitors, we presented a number of online exhibitions during 2020.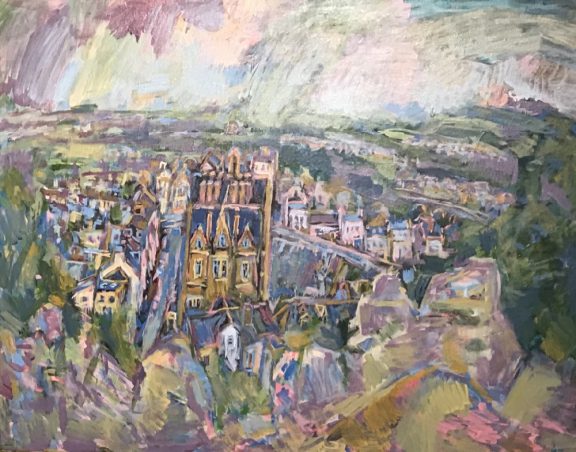 Milan Ivanic. Town Hall Settle 2019. Acrylic on canvas.
Gavagan Art
The business is owned by Mary Gavagan. Mary was Director of the University art gallery at Lancaster University for over 20 years, developing the gallery's collection and curating fine art and craft exhibitions. These showcased works by internationally recognised artists including Joan Miro, Albert Irvin, David Hockney, Alan Davie, Sir Terry Frost, L. S. Lowry and Andy Goldsworthy.
Exhibitions at the gallery often featured work on loan from national collections including the Arts Council, the British Museum and the Imperial War Museum. Exhibitions curated from Lancaster's collections were often loaned to regional museums and galleries. Public lectures linked to the exhibition programme were held; speakers included: Halima Cassell, Emmanuel Cooper, John Keen, Sir Terry Frost, Anthony Frost, Albert Irvin, Anthony Griffiths and Anthony Penrose.
I have always been passionate about art. After studying fine art and art history at university I pursued a career teaching art. Curating art and craft exhibitions at a National Trust property followed, which led to a post at Lancaster University. After twenty three years I retired from my post as Director of the art gallery at Lancaster and decided to continue curating exhibitions in my own gallery. I was aware of a gallery space in Settle, North Yorkshire which had been vacant for seven years. I decided to see if I could revive what had been a highly regarded venue. – Mary Gavagan
 2021 and beyond
Gavagan Art has curated exhibitions in North Yorkshire for eleven years: during that time we have made many friends in the area. We look forward to keeping in touch with our contacts, artists and clients through our new website, newsletters and exhibitions.
We have decided to develop our online presence with this new website and to operate exclusively online initially. Although the Settle gallery will not be reopening we hope to keep links with North  Yorkshire and have been invited to curate exhibitions in this region later in the year.
Please sign up to receive our newsletters, information about new exhibitions and invitations to any events which we organise in connection with our exhibitions. There is a form in the footer of each page on this website.
Contact
Tel. Mobile: 07799797961
Email: [email protected]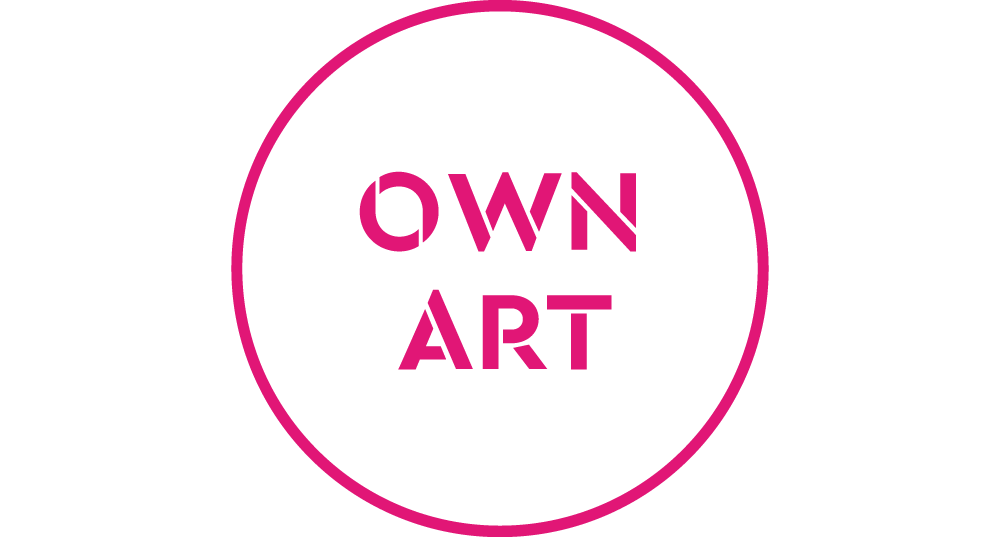 Own Art
Gavagan Art is pleased to be able to offer Own Art.
Own Art makes buying contemporary art affordable by letting you spread the cost of your purchase over 10 months with an interest free loan. Please ask if you are interested in using Own Art for your purchase.
It can be used for the purchase of any kind of contemporary art and craft from paintings & drawings to sculpture and ceramics.
Own Art is only available through approved outlets.
Representative 0% APR
Visit www.ownart.org.uk for more information