Marjan Wouda
Inscape - Marjan Wouda -Sculpture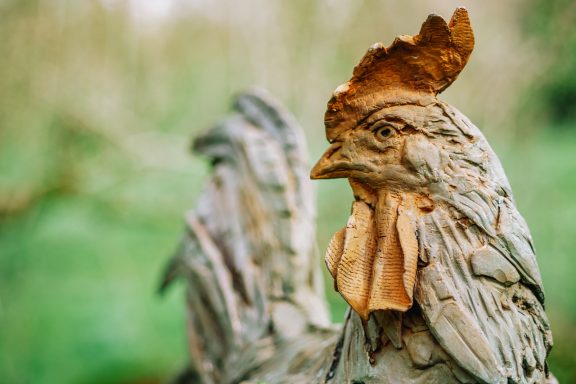 Marjan Wouda - Chanticleer Cockerel- Bronze
Inscape
The poet Gerard Manley Hopkins, used the word 'inscape' to describe the various characteristics that give each thing its uniqueness. The term could be used to describe Marjan Wouda's animal sculptures. Marjan is able to capture in clay, bronze or steel the essence of an animal's character, how it moves, its structure and the bones beneath the creature's fur, hair or feathers. 
Small photographs of work available in this exhibition can be found lower down this page.
Clicking on these small images will show a page with further details about each work. If there is a chevron under the image clicking this will show another view of that work.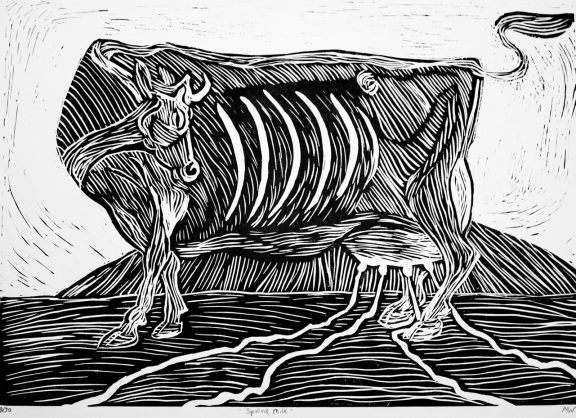 Dun Cow - Spilled Milk. Linocut
Netherlands
Originally from the Netherlands, Marjan grew – up on a dairy farm, and came to England when she was nineteen, studying at first in London and completing her formal training at Manchester Metropolitan University with an MA in Fine Art/Sculpture.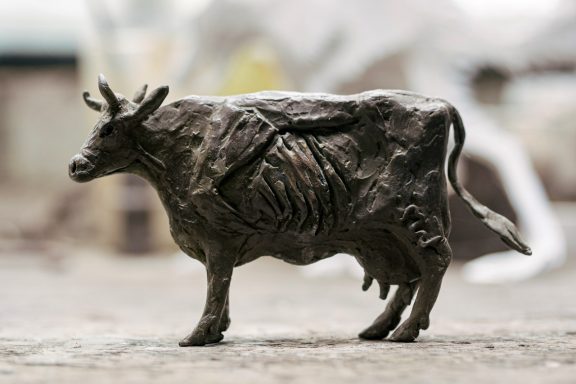 Dun cow - Bronze
Bulky Forms
I grew up on a dairy farm in the north of the Netherlands; a family affair which saw us all involved in the jobs of the seasons; collecting cows for milking, attending at births, feeding and haymaking. Our way in or out of the farmhouse was through the barn, past the cows stabled there in winter, their bulky forms stroked by the daylight streaming in through the tiny windows.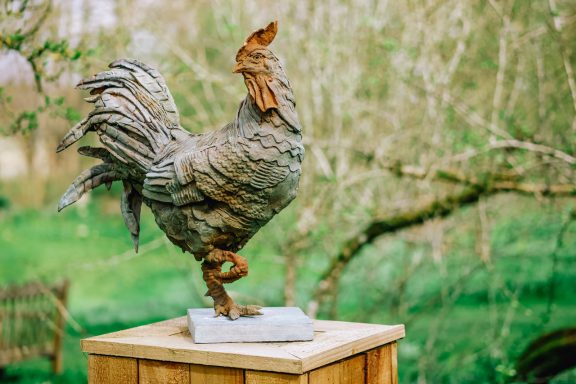 Chanticleer Returns -Bronze.
Animals
Marjan has lived in Darwen, East Lancashire, close to the West Pennine Moors for a number of years.
The sculptures she makes are predominantly of animals, both wild and domesticated. She uses a range of materials including, wax, cardboard, clay, bronze and steel. The scale of her sculptures range from small table top works, to her recent monumental over life sized works in steel.
I make sculptures mostly of animals. The underlying theme in all my work, however, is the human experience. Animals are used, like characters in a dream or story, to explore and give expression to it. I love their infinitely varied forms and the power of their image.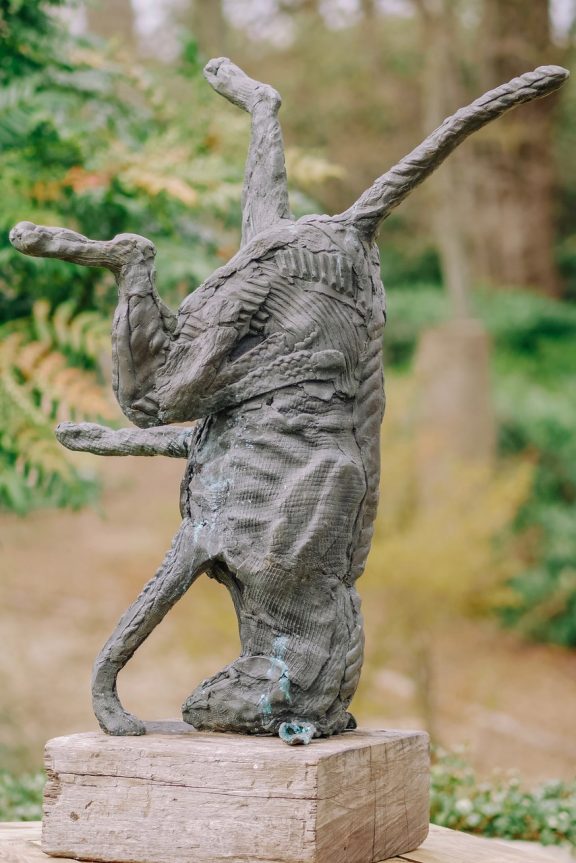 Dog - Performing Headstand. Bronze.
Nursery Rhymes. Proverbs. Stories
I often visit literary sources to find the right animal for what it is I need to look into. Often too, these stories serve as a starting point for series of pieces such as the fox and the cockerel from Chaucer's Nun's Priest's Tale, or the characters populating nursery rhymes (such as Old Mother Hubbard's dog.)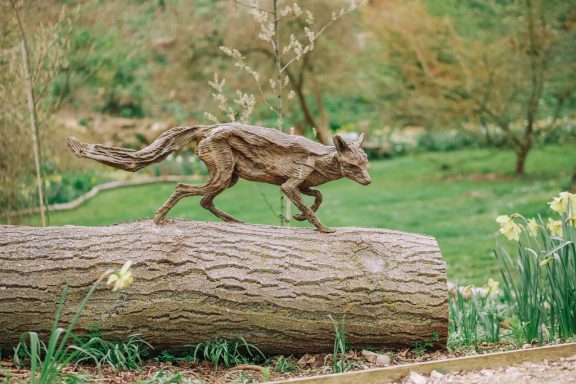 Daun Russell - Fox. Bronze.
Daun Russell - Fox
Fox inspired by a character from the poet Geoffrey Chaucer's The Nun's Priest's Tale.
The animal story serves as an allegory for human behavior.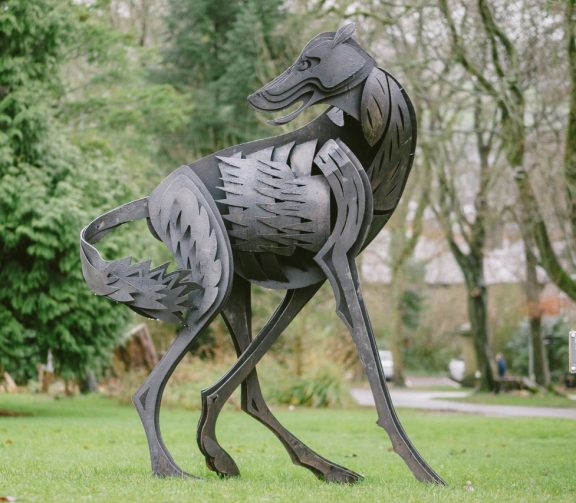 Dandy - Steel sculpture
Folk Lore
The mystery and power of animals in folk tales has been a recurring interest of Marjan's for a number of years. In particular Lancashire folk tales.
One folk tale inspired work is: Dandy, a two metre high sculpture in stainless steel. Inspired by the history of the Pendle Witches. Dandy was the name James Device – one of the so-called Pendle Witches – gave to his black dog-familiar.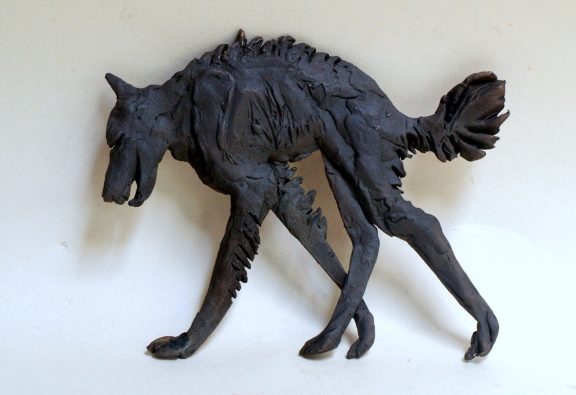 Skriker. Bronze cast.
Skriker
The small sand cast sculpture, featuring a wolf-like shaggy black dog. – "Skriker" is another work inspired by a Lancashire folk tale. The word Skriker is a Lancashire dialect word for calling or crying.
The piece is inspired by a folkloric story from Lancashire and depicts a large wolf-like dog, called Skriker, also sometimes known as Padfoot or Trash. This gigantic shaggy black dog is a well-known character in British folklore, often featured in fireside tales of the ghostly variety.

I originally created the sculpture in wax, from an image of a shadow cast from a Springer Spaniel; in that stretched form of the shadow I found the more unsettling "wild" image of a wolf-like dog. From this wax original a single hard original was cast using the lost-wax process. This became the original "pattern" used to cast the subsequent pieces.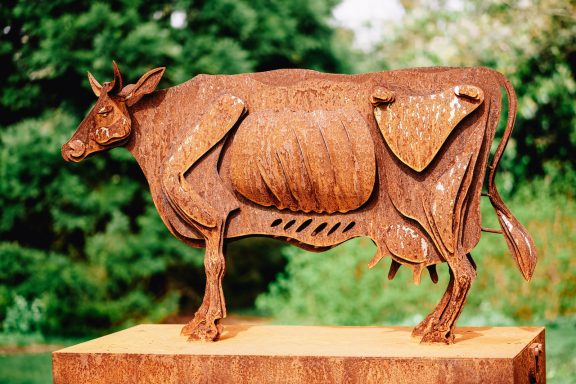 Dun Cow - steel
Dun Cow of Parlick Fell
On Parlick Fell, a hill in the Forest of Bowland just north of Longridge, there dwelled a cow of gigantic proportions. She would let anyone in need, milk her, and fill their vessel, until one day, someone tricked her into giving too much of herself. Through sheer human greed, all does not end well for the cow.
The Dun Cow is made from mild steel, which has been left outside to develop a red-brown surface.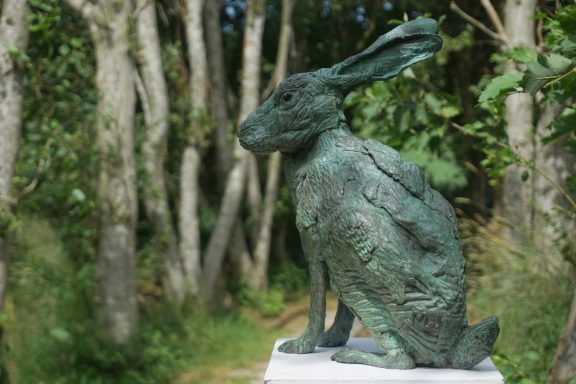 Hare - Big Ears -Bronze
The Forest Of Bowland and The West Pennine Moors
Hares have inspired a number of Marjan's art works. These have included: Hares cast in bronze with heavily textured surfaces, lino cut prints, ink drawings and in recent years large scale hares constructed from sheets of steel. Works include: The White Dobbie and Sir Hare.
The hare has long been a creature of significance in Lancashire, celebrated in stories and superstitions. The Forest of Bowland, continues to provide it a safe haven while numbers elsewhere are in decline through loss of habitat.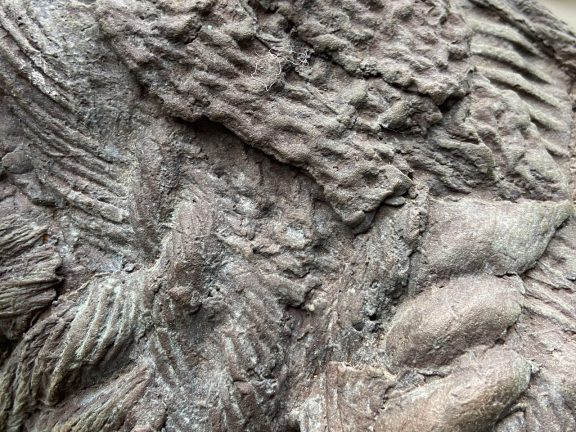 Texture detail
Materials and Texture
I will figure out how a new piece may work "in the round", by working three dimensionally on a small scale, often in clay and sometimes in wax, wire, or paper. I may make several of these "maquettes" to see which works best. I try to develop the piece in such a way that the viewer is led around it and the space becomes charged. 
Many of Marjan's sculptures are first made in clay and built up in layers, These sculptures are then often cast in bronze.
 Starting with reference to the skeleton. I roll out the clay onto various surfaces and moulds so that the final form is a playful collage of familiar things such as rope, knitted fabric, dishcloths, and cardboard.
In recent years Marjan has constructed a number of large steel sculptures. These include a large dog sculpture – Dandy. This work is made of stainless steel, with a black patina. Another large work: The Dun Cow of Parlick is formed of mild steel and the three metre hare sculpture: Sir Hare, was created from pre-cut curved Corten steel plate, welded together with spaces between to form a robust but open structure.
The steel has a natural rusty colouration which does not penetrate it but imbues it with a hot deep-orange hue.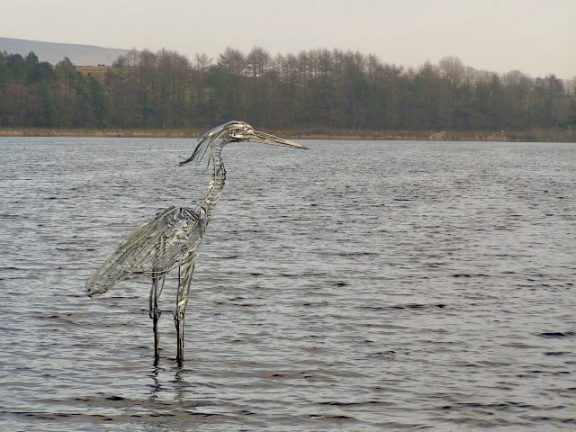 The Wader: Entwistle Reservoir - Edgeworth, BL7 OLU
Commissions & Public Sculptures
Sculpture commissions have included large monumental works for public spaces as well as private commissions. Marjan's work can be found in Hong Kong, The Caribbean, London, Greater Manchester and the following locations in the north of England:
Huntington Heritage Trail –  Bold Venture Park, Darwen, Lancashire. ( A number of site specific sculptures, including "Huntington's Parlour".) Ghost – Roe Lee Park, Blackburn, Lancashire. Dog Performing Headstand. – Bury Museum and Sculpture Centre. Owl of Few Words – Accrington Library – newel post. Fatkin (the Mole) – Rising Sun Country Park, Newcastle-upon -Tyne. Heron – River Lune Millennium Park – sculpture close to the Crook of Lune. Leigh Pitpony – Lancashire Mining Museum at Astley Green, M29 7JB
The Own Art Scheme
The Own Art scheme is available through Gavagan Art for the purchase of contemporary art and craft of any kind and in any medium. If you would like to apply for Own Art  please let us know. Own Art is a national initiative letting you spread the cost of a purchase over 10 months with an interest free loan. Own Art is a Creative United programme run in partnership with Arts Council England.
One of the aims of the scheme is to support contemporary artists by encouraging increased sales of work across a breadth of practice.
Work available in this Exhibition