Norman Adams, Watercolours Four Distinctive Landscapes
15-05-21-24-07-21
Norman Adams 1927 - 2005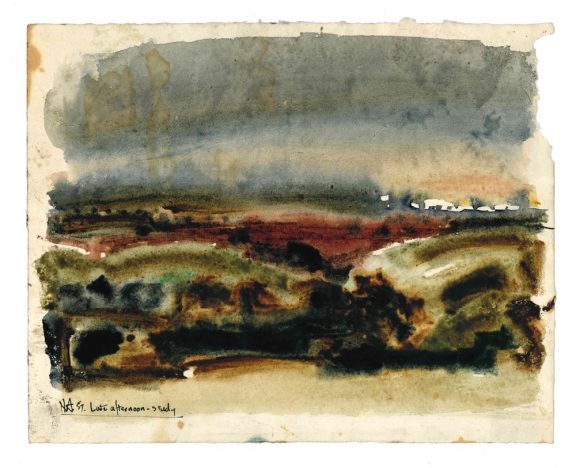 Late afternoon study 1957. Watercolour.
Introduction
This exhibition presents a representative group of watercolours painted directly before nature. These works, freshly painted en plein air, are of four distinctive landscapes. Norman was a prolific painter and throughout his life captured in watercolour his feeling for the particular landscape where he was either living or visiting. These direct works, complete in themselves, informed his monumental works and the commissions he received during his artistic career.
I have been aware of Norman's work since the early 1980s and interviewed him in 2004. I asked him about the effect which different landscapes had on his work. – Mary Gavagan
Maybe my tidy suburban upbringing caused me to be very excited by the mountains and wilderness and the sea. My first trip to Scotland was in 1951… I did a lot of watercolours there the sea, mountains and clouds from a hillside that overlooked a sea-loch. On my return the work was exhibited at the Gimpel Fils gallery and seen by Andre Howard, the choreographer, with the result that I was commissioned to do sets and costumes for a ballet: A Mirror for Witches at Covent Garden. This was encouraging, and led on to another one: Saudades – with another choreographer, Rodrigues.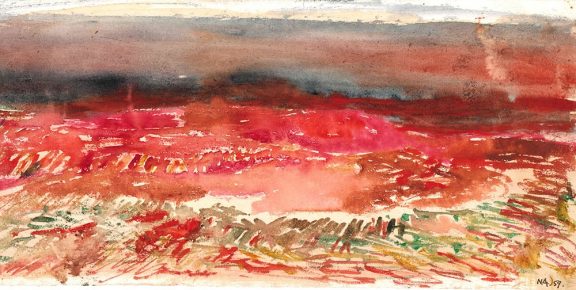 Red dusk 1959 Ribblesdale. Watercolour. (This work is now sold)
The Yorkshire Dales - Ribblesdale
In the mid 1950's Norman and his wife Anna – also an artist and writer, bought a house at Horton-in-Ribblesdale in North Yorkshire, this house close to Pen-y-ghent, was to become their creative home for many years and Norman's studio for most of his working life.
I am convinced that it was Yorkshire, the breadth of its uncluttered views, the clarity of its hill forms, the bird life and flowers, that cleansed his palette, his life, and his spiritual being.
Quote from Glyn Hughes –  poet, novelist, dramatist and life long friend of Anna and Norman.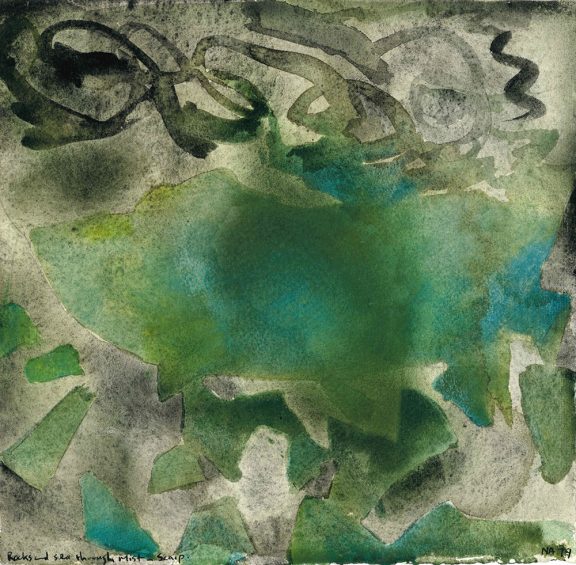 Rocks and sea through mist, Scarp 1979. Watercolour.
Scarp
The island of Scarp in the Outer Hebrides.
the most beautiful place I've ever seen. – Norman Adams.
In 1969 Norman and Anna bought a small croft on the island of Scarp in the Outer Hebrides, west of the island of Harris in north west Scotland. The island is reached by a short boat crossing across the Kyle of Scarp from Harris. The sea here is shallow and landing on Scarp can be difficult. During the 1970's Anna and Norman and their children divided their time between North Yorkshire and the Outer Hebrides.  For the next ten years the sea and landscape of this island inspired many paintings, both watercolour and oil paintings.
From Husinish, on Harris, where everyone speaks the Gaelic except the sea, which says 'Husinish, Husinish' all day long, we took a weathered wooden motorboat across the green hills of the sea to Scarp.

Anna Adams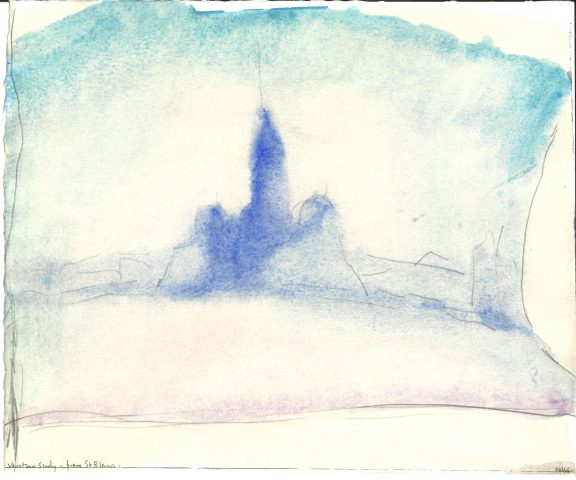 Venetian study from St Elena 1966. Watercolour.
Italy and Provence
Provence
Norman and Anna travelled widely in Britain, France and Italy, first visiting Northern and South West France in1949. Their first visit to Provence was in 1981 with return visits once or twice a year up to 1993.  Here Norman painted the cherry orchards in the Ardeche and olive trees and fields of vines and sunflowers. His visits to Provence were prompted by rereading the book of the Letters of Van Gogh.
Italy
On their visits to Italy in the late sixties Norman and Anna visited Assisi, Florence, Sienna, Padua and Venice.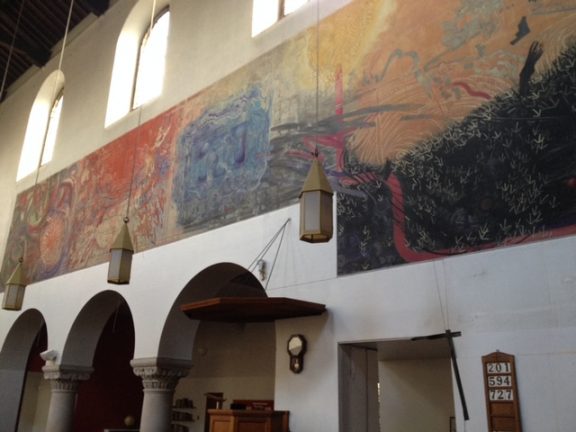 St. Anselms Kennington South East London. Image reproduced with kind permission of North Lambeth Parish Office.
Biography
Norman Adams (1927-2005) was born in London and studied at Harrow School of Art, where he won a scholarship to the Royal College of Art, later becoming professor at the Royal Academy Schools, 1995 – 2000.  It was at Harrow that Norman met his wife Anna, also a painter and poet.
Norman held senior teaching posts at Manchester School of Art and Newcastle before becoming Keeper at the Royal Academy in 1986 -1995.
He has been called a romantic visionary greatly admiring the English painters William Blake and J. M.W. Turner. Other artists who were an important influence on his work include the early Italian painters Cimabue, Giotto, Duccio and Lorenzetti, painters whose work Norman experienced on visits to Italy.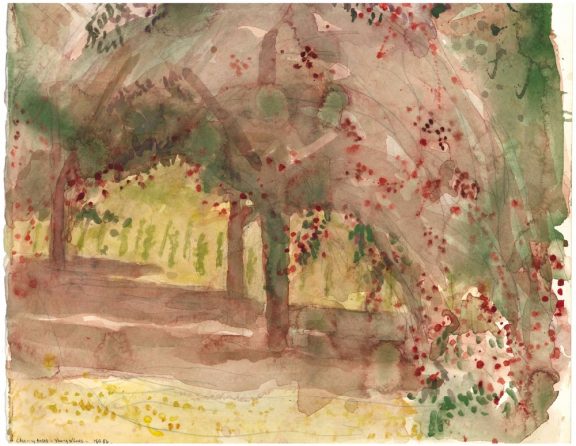 Norman Adams 1984 Cherry Trees - Young Vines. (This work is now sold)
Major Commissions
Major commissions include: Designs for stage for ballets at Sadler's Wells and Covent Garden, large scale murals for St. Anselm's church, Kennington, London, 1970s. Ceramic reliefs of the Stations of the Cross for Our Lady of Lourdes Roman Catholic church, Milton Keynes (1975-76) and the monumental paintings of the Stations of the Cross commissioned for St Mary's Roman Catholic church, Manchester. He considered this work at St. Mary's RC Church in Mulberry Street  to be his masterpiece.
 You cannot do that sort of thing without having the presence of Grunewald at the back of your mind. His great altarpiece at Colmar, in the Alsace, and the Arena Chapel paintings by Giotto, in Padua, are the greatest things I know and have always been an inspiration to me.

Interview with Mary Gavagan in 2004
Norman Adams was a prolific painter, he produced around 100 watercolours each year and 10 or12 large oil paintings. His work is in numerous public and private collections.
From start to finish, Norman Adams has stayed outside his time. ……..Though only seven years older than me, Norman Adams has been a sustained example of artistic integrity. He is a great artist whose time is still to come.
Glyn Hughes at the opening of an exhibition in 2005.
Please click on the individual images below to see information about each work.
Work available in this Exhibition