The Artist In his Environment
09-05-22-25-05-22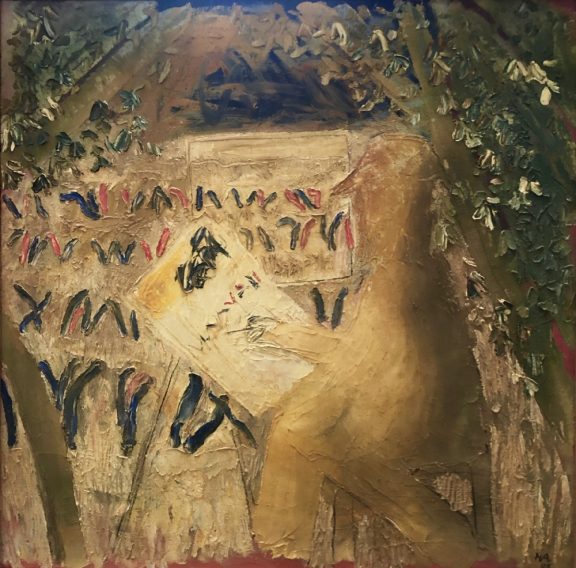 Like A Window - The Artist In His Environment. Oil on canvas.
The Artist in His Environment
The title of this exhibition at the Storey Gallery in Lancaster, on display from 9 -25 May 2022, is taken from a passage written by Anna Adams about Norman's painting  "Like A Window" which can be seen in this image. Norman's wife Anna, herself an artist and poet wrote about this painting:
It is happy in mood, and prevailingly yellow in colour, pretending to be a picture of Van Gogh at work in a vineyard, using a square device as an aid to composition. Vincent said, in a letter to Theo, ( Van Gogh's brother ) that it was "like a window". Hence, the title of the painting. But it could equally be called "The Artist in his Environment", and it could also be considered as a self-portrait, for Norman had a way of identifying with artists whom he admired. 

This actual exhibition in Lancaster is divided in to sections: The Yorkshire Dales – Ribblesdale, Provence, Italy, Scarp – The Outer Hebrides, Paintings Reflecting Global Events, Major Commissions and Large watercolours.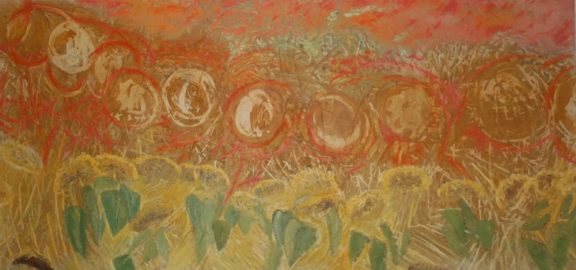 Norman Adams - The Flight of Phaeton Sunflowers
The Spirit Of His Time
Works in this actual exhibition in central Lancaster at the spacious Storey Gallery, show how Norman's work changed to reflect different landscapes, world events and the spirit of his time.
His landscapes reflect the atmosphere (and the weather), as much as they show a landscape. His larger works often reflect world events. The painting "Phaeton Passes" is as much about global warming as it is about a field of sunflowers. Ghosts is both a reaction to his mother's death and also his thoughts on religion and mortality." – Ben Adams – the artist's son April 2022.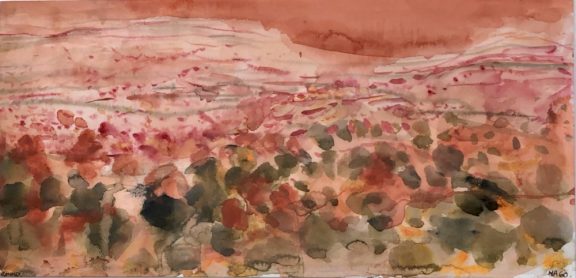 Pen-y-Ghent, Ground. Watercolour.
The Yorkshire Dales - Ribblesdale
In the mid 1950s Norman and his wife Anna, also an artist and writer, bought a house at Horton-in-Ribblesdale in North Yorkshire, this house close to Pen-y-ghent, was to become their home and Norman's studio for most of his working life.
I am convinced that it was Yorkshire, the breadth of its uncluttered views, the clarity of its hill forms, the bird life and flowers, that cleansed his palette, his life, and his spiritual being."
Quote from Glyn Hughes –  poet, novelist, dramatist and life long friend of Anna and Norman.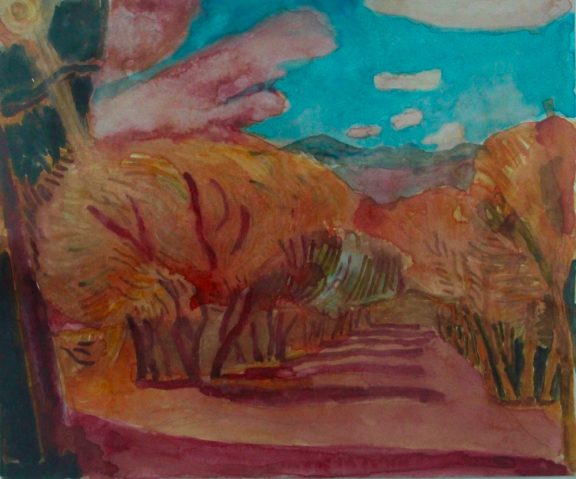 Orchard St. Remy. Sunny Day. Watercolour.
Provence
Norman and Anna travelled widely in Britain, France and Italy, first visiting Northern and South West France in1949. Their first visit to Provence was in 1981, with return visits once or twice a year up to 1993.  Here Norman painted the cherry orchards in the Ardeche and olive trees and fields of vines and sunflowers. His visits to Provence were prompted by rereading the book of the Letters of Van Gogh. More than 650 were from Vincent to his brother Theo. 
In1980 Norman and Anna stopped going to Scotland, and after a very cold winter in the north of England he set out for Provence. When they left it was snowing in Yorkshire. As they drove through northern France it was raining. When they got to Southern France there was apple blossom and butterflies. All through the 1980's Adams spent the summers painting watercolours around places like Arles and St. Remy. Ben Adams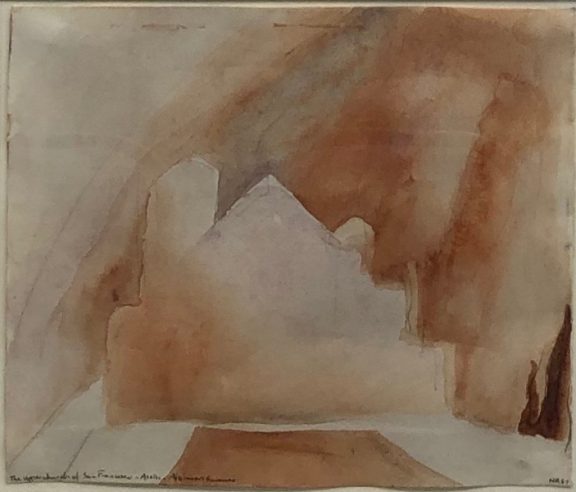 Upper Church of St. Francis of Assisi.
Italy
On their visits to Italy in the late sixties Norman and Anna visited Assisi, Florence, Sienna, Padua and Venice. Norman's first visit to Italy was in1966. His main aim was to see the frescoes at Assisi and Padua by the painter Giotto. Giotto (1276 – 1337) is perhaps best known for the frescoes he painted in the Arena (or Scrovegni) Chapel Padua. He is thought by many to be the most important artist of the 14 th century. Other artists who were an important influence on Norman's work include the early Italian painters: Cimabue, Duccio and Lorenzetti, painters whose work Norman experienced on his visits to Italy.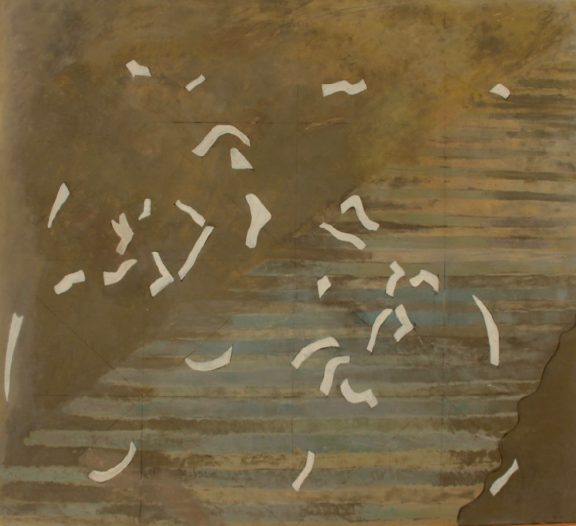 Sea Birds Scarp 1969. Oil painting.
Scarp - The Outer Hebrides
The island of Scarp in the Outer Hebrides, the most beautiful place I've ever seen. Norman Adams.
In 1969 Norman and Anna bought a small croft on the island of Scarp, west of the island of Harris in north west Scotland. The island is reached by a short boat crossing across the Kyle of Scarp from Harris. The sea here is shallow and landing on Scarp can be difficult. During the 1970s Anna and Norman and their children divided their time between North Yorkshire and the Outer Hebrides. For the next ten years, the sea and landscape of this island inspired many paintings, both watercolour and oil paintings.
I am deeply moved by nature, and all my work is the result of finding myself at one with nature at a particular time.  My work is about light, space and probably most of all, time. A particular place (situation) brings me vividly face to face with these elements and then I can only work." Norman Adams writing in 1970 about the painting of a rainbow which he had painted in 1966 on the Island of Scarp. The painting is in the Tate Gallery London. First Rainbow Painting ( Easter Series) 1966 Oil on Canvas. Purchased from the artist in 1969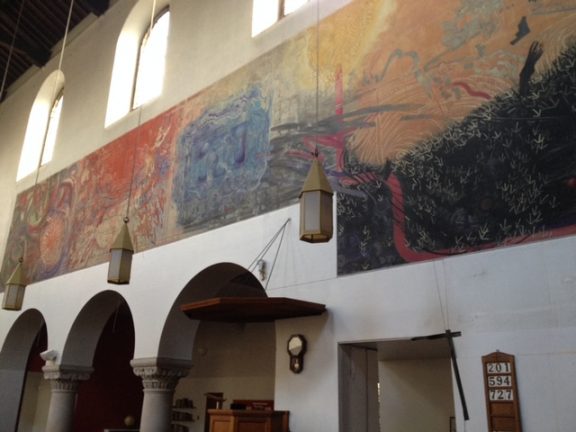 St. Anselms Kennington South East London. Image reproduced with kind permission of North Lambeth Parish Office.
Major Commissions
Major commissions include: Designs for stage for ballets at Sadler's Wells and Covent Garden. Church commissions  include large scale murals for St. Anselms church, Kennington, London, 1970s. Ceramic reliefs of the Stations of the Cross for Our Lady of Lourdes Roman Catholic church, Milton Keynes (1975-76) and the monumental paintings of the Stations of the Cross, commissioned for St Mary's Roman Catholic church, Manchester in 1993. Norman considered this work at St. Mary's RC Church in Mulberry Street  to be his masterpiece. The church is known by many people as The Hidden Gem. 
You cannot do that sort of thing without having the presence of Grunewald at the back of your mind. His great altarpiece at Colmar, in the Alsace, and the Arena Chapel paintings by Giotto, in Padua, are the greatest things I know and have always been an inspiration to me. Norman Adams in an Interview with Mary Gavagan in 2004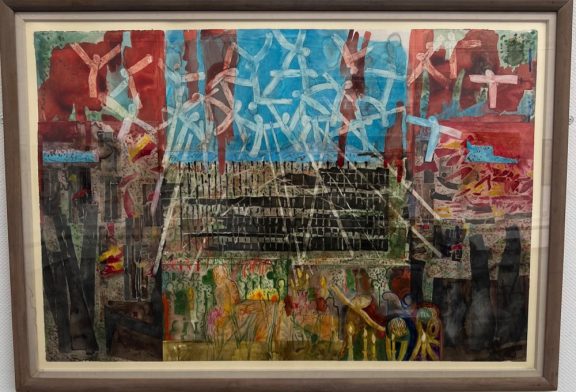 Diaspora - Watercolour.
Norman's Large Watercolours
In the Lancaster exhibition at the Storey Gallery a number of very large watercolours are exhibited. These late works include the painting – Diaspora 1991. This work was painted in response to the first Gulf War. The painting depicts displaced people stranded in the hills. The shapes in the sky either planes or angels.
The Imperial War Museum, London, has in its collection a large watercolour and gouache painting by Norman – The Angels of Destruction. This painting like the Diaspora painting is is a response to the horrors of war.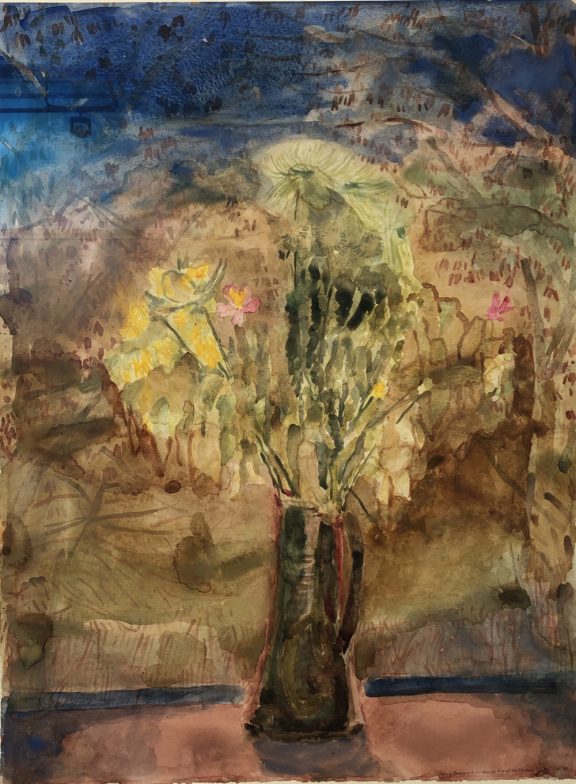 Flowers with landscape through the window. Watercolour
Large Watercolours.
A number of large watercolour paintings from the Lancaster exhibition are now available including: Diaspora and Dying Flowers With Landscape Through The Window.
Work available in this Exhibition