The Artist In his Environment
09-05-22-25-05-22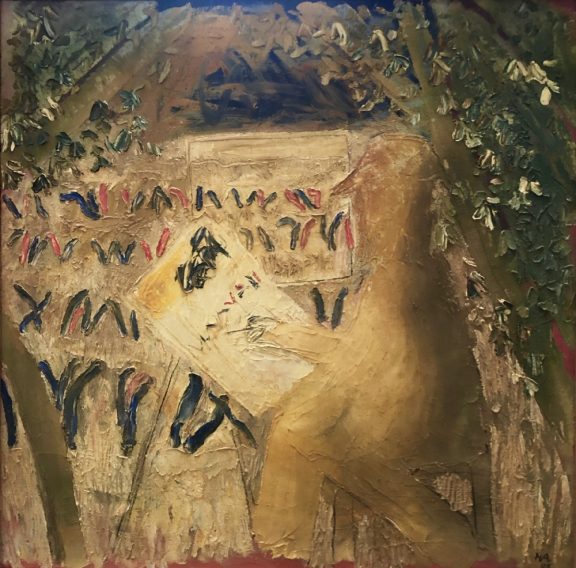 The Artist in His Environment
The title of this exhibition at the Storey Gallery in Lancaster, on display from 9 -25 May 2022, is taken from a passage written by Anna Adams about Norman's painting  "Like A Window" which can be seen in this image. Norman's wife Anna, herself an artist and poet wrote about this painting:
It is happy in mood, and prevailingly yellow in colour, pretending to be a picture of Van Gogh at work in a vineyard, using a square device as an aid to composition. Vincent said, in a letter to Theo, ( Van Gogh's brother ) that it was "like a window". Hence, the title of the painting. But it could equally be called "The Artist in his Environment", and it could also be considered as a self-portrait, for Norman had a way of identifying with artists whom he admired. 

This actual exhibition in Lancaster is divided in to sections: The Yorkshire Dales – Ribblesdale, Provence, Italy, Scarp – The Outer Hebrides, Paintings Reflecting Global Events, Major Commissions and Large watercolours.

A small selection of work in the exhibition is included here,  further images are yet to be added.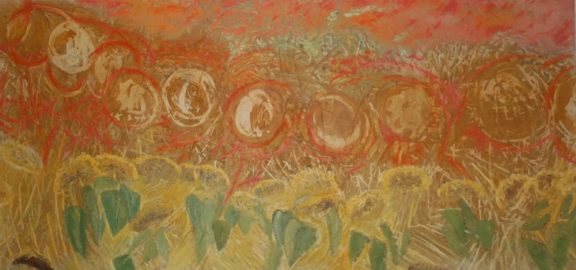 Norman Adams - The Flight of Phaethon Sunflowers
The Spirit Of His Time
Works in this actual exhibition in central Lancaster at the spacious Storey Gallery, show how Norman's work changed to reflect different landscapes, world events and the spirit of his time.
His landscapes reflect the atmosphere (and the weather), as much as they show a landscape. His larger works often reflect world events. The painting "Phaeton Passes" is as much about global warming as it is about a field of sunflowers. Ghosts is both a reaction to his mother's death and also his thoughts on religion and mortality." – Ben Adams – the artist's son April 2022.
Work available in this Exhibition