Four Studies of Aquilegia. Gouache on paper.
An Introduction to Derek's Work
I became aware of Derek Setford's work in 2015, when Derek visited my gallery which was in Settle, North Yorkshire. He asked if I would be interested in selling greetings cards of four of his botanical paintings: Four Studies of Aquilegia – gouache on paper. I asked if he had other works, and on seeing the impressive collection of his paintings and original prints, I curated a small exhibition in Settle. This exhibition was popular with visitors and collectors and both paintings and a number of wood engravings sold.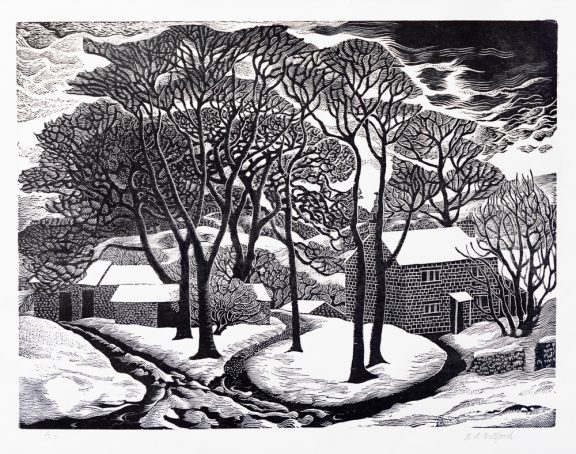 Winter. Wood engraving.
Spring 2022 - An On Line Exhibition
I am delighted that when asked, Derek agreed to this new online exhibition, which includes a larger number of works than the Settle exhibition of 2016. Here there are a number of works for sale, as well as drawings and paintings which are not available, their inclusion here allows a more comprehensive range of Derek's work to be seen by a wider audience.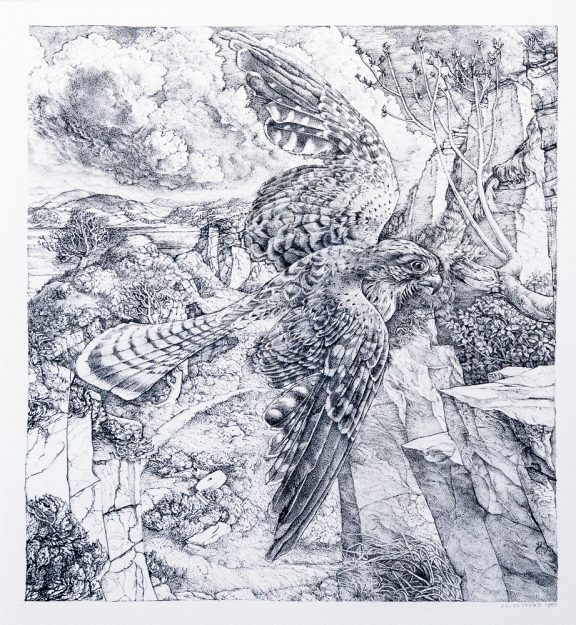 Kestrel Flying Over A Quarry. Pen and ink on paper.
Early Years. A Move To Grasmere.
Derek Setford was born in Liverpool in 1936, and moved with his parents to the Lake District in 1944. Although Derek's parents were not involved in art in any way, they always gave him every encouragement and assistance. 
The move to Grasmere, in the heart of the Lake District when Derek was eight, obviously has had a dramatic and lasting influence on his choice of subject matter for the rest of his artistic career.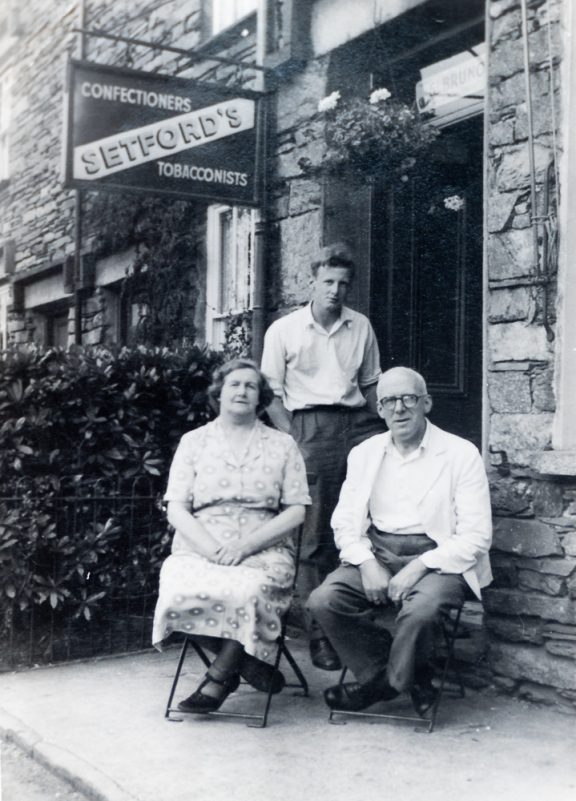 Derek and his parents outside their shop in Grasmere
The Lake District - Grasmere
When asked about the recurring themes in his work: birds, flowers and the northern landscape, Derek explained that his interest in these subjects developed as a direct result of the landscape and rural environment of the Grasmere area. The photograph here was taken in the early 1950s of Derek and his parents outside their confectioners shop in Grasmere village.
The Setfords had previously had a bicycle shop in Liverpool which was damaged in the Liverpool Blitz.
There was haymaking in the field behind the house, when everyone assisted in gathering the crop. It was still taken to be stored in the barns by horse and cart. In the winter there would be skating on White Moss Tarn and sometimes Rydal Water.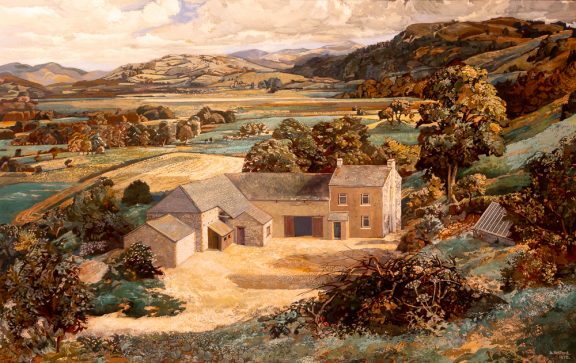 Cinderbarrow Farm, South Lakeland, Cumbria. Gouache on paper.
Landscape Painting
The landscape of the Lake District, especially the South Lakes, feature in a number of Derek's paintings.
My interest in landscape inevitably grew as a result of living in Grasmere – not just the changing seasons and light and weather but the annual exhibitions of the Lake Artists at what was known in those days as the 'New Hall' and the Heaton Cooper Studio in the centre of the village.

In his summer vacations from art college, Derek worked in the Heaton Cooper Studio in Grasmere.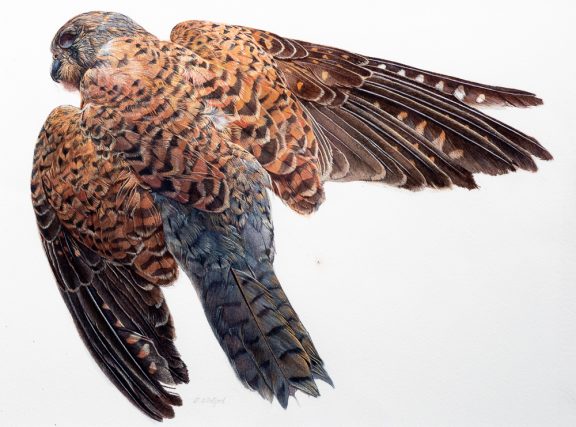 Derek Setford : Study of a dead kestrel. Gouache on paper.
School in Windermere and Leeds College of Art
Derek attended school in Grasmere and Ambleside, and then Windermere Grammar School. It was here in Windermere where Derek's interest in art developed. His art teacher had been a student at Leeds College of Art and Derek was able to secure a place at Leeds.
It was a very enjoyable experience to be doing art full-time. We were introduced to a wide range of media and activities: sculpture, printmaking, museum study, plant drawing etc. I was not at Leeds long enough to be much influenced by any particular tutor as during my first term I learnt that I had been awarded a state scholarship. This required me to find a course which offered a degree equivalent qualification.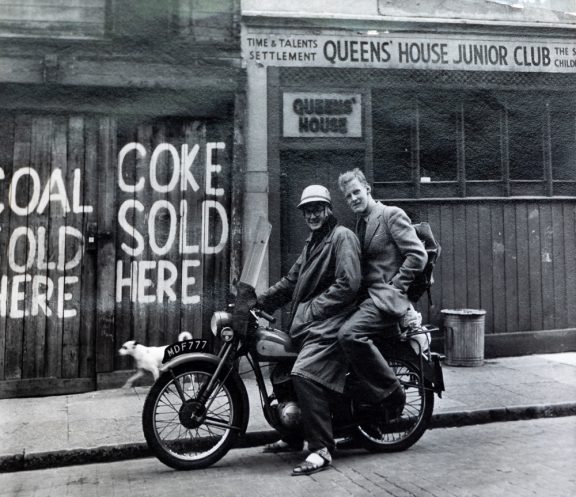 Student Life at the Slade London. Derek having a lift from a friend outside the Coal & Coke Merchants.
London and the Slade
I applied to and was offered a place at the Slade School London. I specialised in drawing, painting and printmaking (at this stage etching, any engraving done was on copper). It was a stimulating environment. My time coincided with that of E. H. Gombrich, author of 'The Story of Art', who was lecturing on art history. Mr Lucas, then chief restorer at the National Gallery, talked about materials and methods. Visiting tutors came – I had tutorials with John Piper and LS Lowry.

For much of my time in London I lodged in Bermondsey, right on the banks of the Thames where at high tide you could almost touch the water from the lowest window.

In my final year at the Slade my tutor was Sir William Coldstream, the Slade Professor.

Canada Geese. Etching.
Drawing From Life At Regents Park and Belle Vue
I always liked to draw animals and birds, having worked at Regent's Park in my student days and at Belle Vue and Chester Zoos when I moved back to the North. The opportunity to draw at the Three Owls Bird Sanctuary came when I worked in Rochdale. Here I could observe birds at close quarters, in relatively quiet conditions.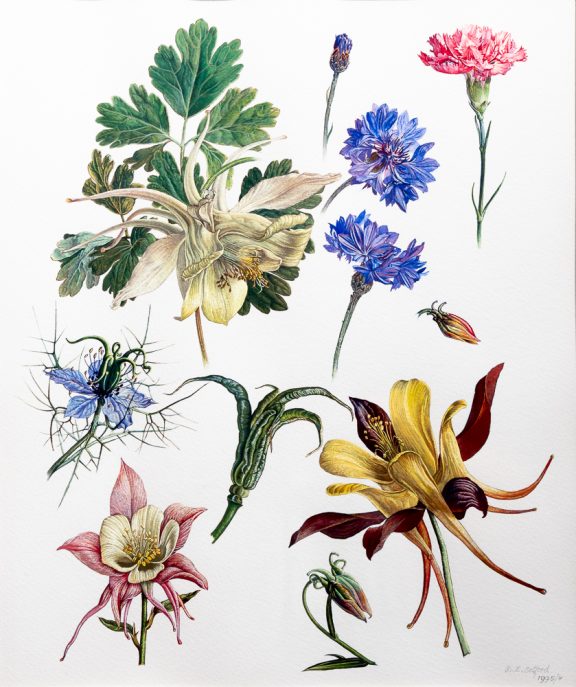 Aquailegias, nigella, cornflower. Gouache on paper.
Teaching Art
Following his studies at art college, a teaching career ensued. Derek's first post was in Hertfordshire followed by a post as Assistant Lecturer at Rochdale College of Art, where he mainly taught graphic design and printmaking.
My teaching experiences were sharply contrasting. My first job after qualifying was in a new secondary modern school in Welwyn Garden City. This was largely a difficult and unrewarding time. By contrast, Rochdale was a far more pleasant job, the facilities were excellent, including a new building from 1970.
Derek was employed at Rochdale College for twentyfive years, finally retiring from the post of Acting Principal in 1990. Retirement inevitably has allowed more time for painting and wood engraving.
Plant drawing was something I enjoyed as a first year student in Leeds but to a large extent, did not pursue it further until I took early retirement.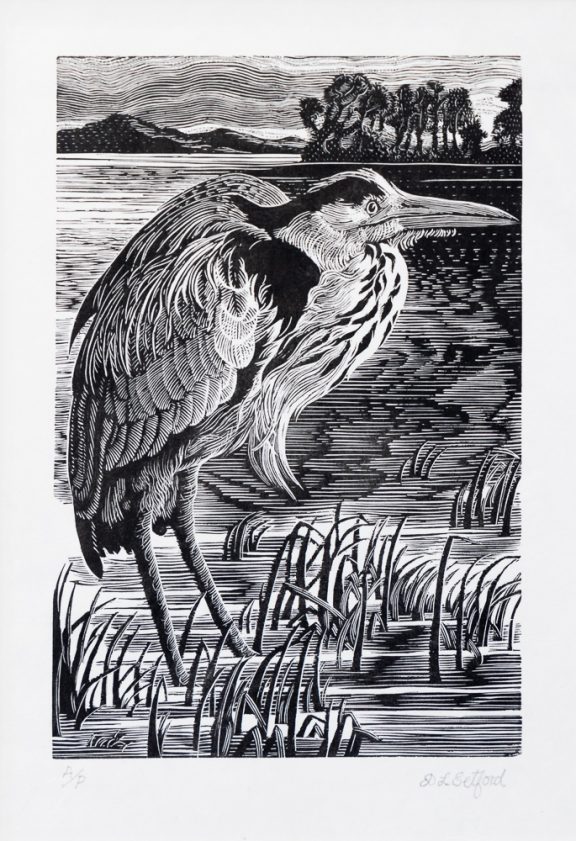 Heron. Wood engraving.
Wood engraving
I was first made aware of wood engraving as a schoolboy when my art teacher showed me his copy of 'Bewick's Birds', but I did not attempt it myself until teaching in Rochdale many years later. I am 'self taught' in this medium. It is a very 'graphic' method, quite challenging, but capable of a wide range of approaches and, in the hands of many engravers, fresh and interesting designs.

I found acceptance in my early submissions to the Society of Wood Engravers (not always the case with other exhibitions!) and with it, some sales. This was a definite encouragement. I think the standard of work in the SWE shows is high and while most members are from Britain, others come from America, Russia, Japan and elsewhere.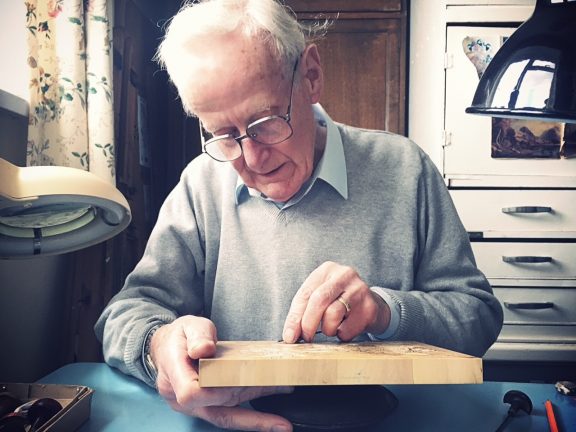 Derek Setford working on a wood engraving block. Photograph: Joshua Wright.
Art Societies
Derek has exhibited at the Manchester Academy of Fine Arts, the Society of Wood Engravers (of which he was elected a member in 2002) and with the Society of Botanical Artists. His work is in numerous collections.
I have not written anything about my methods of working or the artists I admire. I say now that there are legions of artists I admire and that for me, at least, my working methods tend to be very slow. Thorough preparatory work has led to more satisfactory results.
I have ideas in the pipeline and hope my eyes and hands will allow some of them to come to fruition.

Freesia Nfs
Examples of Botanical Paintings and other Studies
Included here are a number of botanical and landscape studies. Although a number of these works are not available, there are eighteen wood engravings and botanical paintings which are for sale in the section towards the bottom of this page. To see further details of these eighteen works which are grouped together in a block section, please click on each image and a separate page can be seen with details.
The images here with Nfs are not for sale.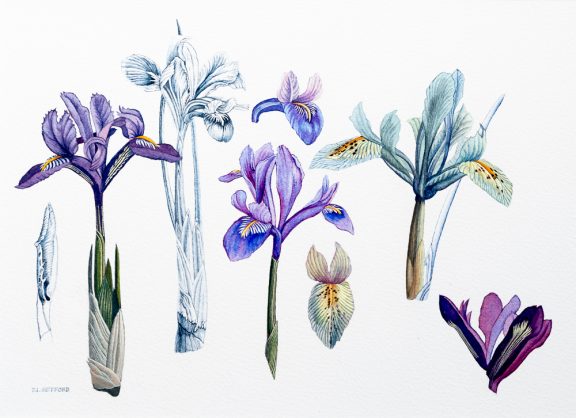 Minature Iris Nfs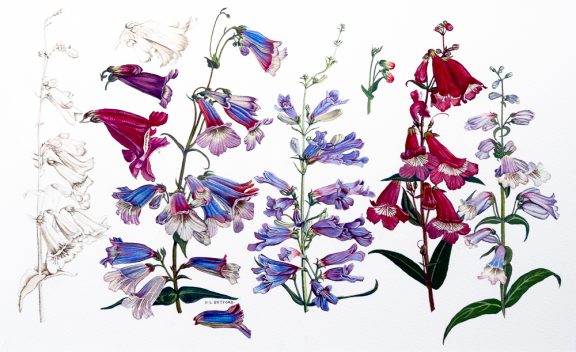 Penstemon Nfs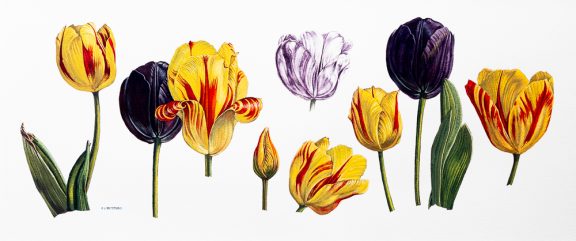 Tulips. Nfs
Purple and Yellow Iris Nfs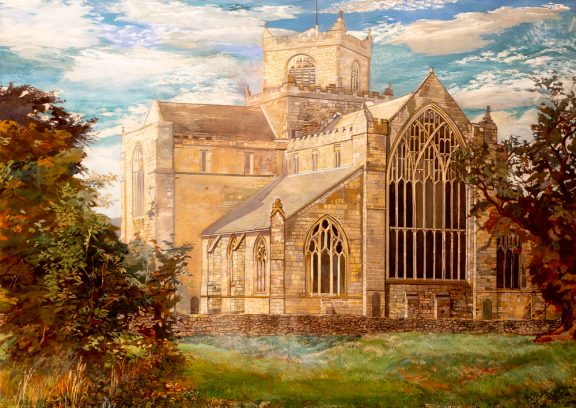 Derek Setford. Cartmel Priory Nfs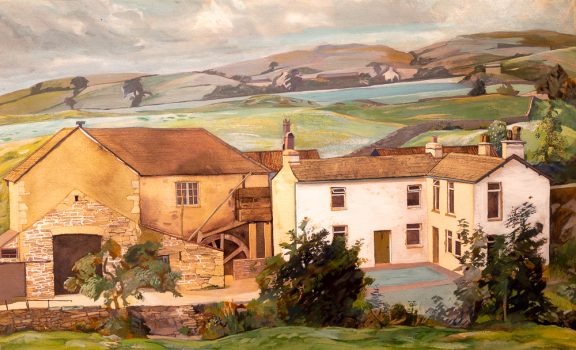 Greenridge Mill - South Lake District Nfs
Greenridge Mill - Underbarrow
The eighteen wood engravings and botanical paintings which are for sale can be found below:
To see further details of these eighteen works which are grouped together in the block section below, please click on each image and a separate page can be seen with details.
Work Available
 Please note: In the final section of this page are eighteen images of works for sale. Other works are unavailable, either because the edition of wood engravings has sold out, the woodblock is damaged or the works are in private collections, they are included to show the range of artwork produced by Derek over a number of years.
Thank you to Derek Setford, and to also to John McGibbon for his photographic assistance, without their help this online exhibition would not have been possible.
Mary Gavagan 2022
Work available in this Exhibition