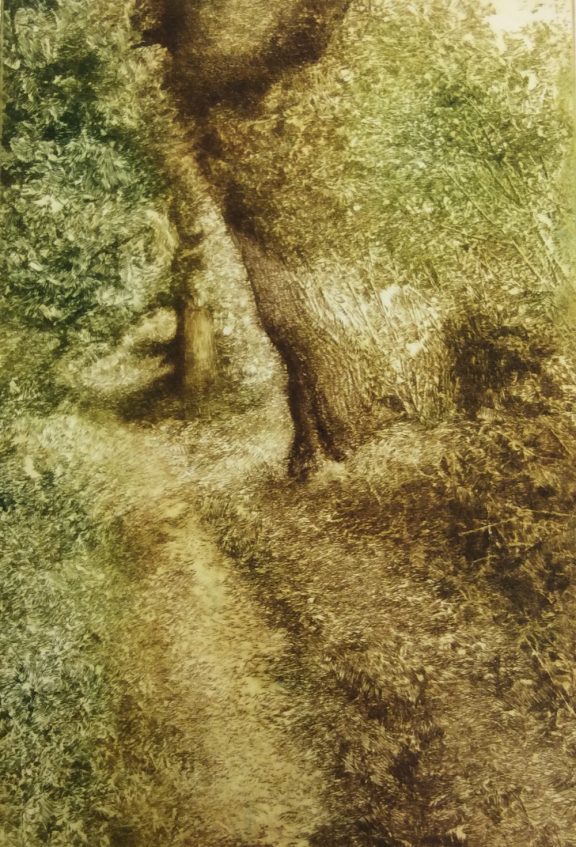 Brian Hindmarch Drypoint 50 h x 40 w cm Unframed – framing can be arranged. Bridleway to Askwith.
Brian Hindmarch
As the hours of daylight decrease at this point in the year, our attention often turns from outdoor pursuits to spending longer hours indoors taking a closer look at the world close at hand. Our autumn exhibition takes a closer look at a number of works on our website, the subject matter and materials used by the artists.
Yorkshire based printmaker, Brian Hindmarch often takes as the subject matter for his prints trees in the landscape. Trees in Yorkshire parklands, trees in orchards, solitary trees on Irish hillsides, silver birch trees in woodlands and orange trees in citrus groves in the town of Menton on the Mediterranean coast.
Brian's chosen technique is drypoint, a technique used to draw directly on to the printing plate. The image printed from the etching plate, the quality of the line is affected by the burr which occurs as the drawing needle is scratched into the surface.
I have chosen to practice the process of drypoint specifically to explore the characteristics of this technique and also to explore how this medium might also be developed with a 'painterly' approach. My recent prints are also examples of colour mixing and registration to produce unique one-off 'proofs'.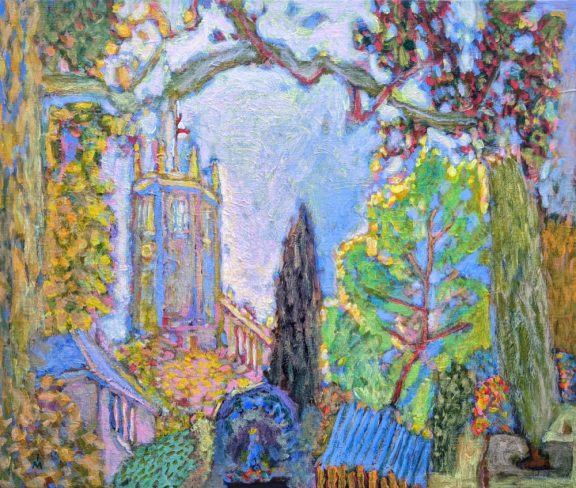 Milan Ivanic. Hornby. Acrylic on canvas
Milan Ivanic
Milan has lived in many places in England, often returning to the places he loves in Sussex, but since 1986 the north of England has been his 'home', the landscape of Lancashire and Yorkshire.
Lancaster based Milan Ivanic, has recently produced new work inviting us to take a closer look at some familiar scenes. His painting of the two churches at Hornby in the Lune Valley are painted from an unusual vantage point in the grounds of St. Mary's Church (which has a fascinating history, built in1821) allowing the viewer to have sight of both buildings.
The unusual tower of St. Margaret's which is made of two octagons, can be seen in the background.
I want to make pictures that people will look at again and again and see something different every time

Milan Ivanic 2020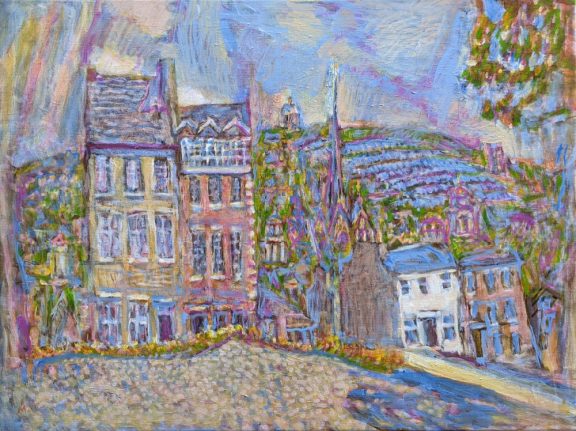 Milan Ivanic. Lancaster City from the Castle entrance. Acrylic on canvas.
Lancaster
Views of the City of Lancaster very often feature Lancaster Castle. Milan's painting of Lancaster is from a point just outside the Castle entrance. The scene viewed from here includes a number of the distinctive  buildings on Castle Hill, the spire of St. Peter's Catholic Cathedral, the Ashton Memorial's green copper dome in the distance and the rooftops of the city.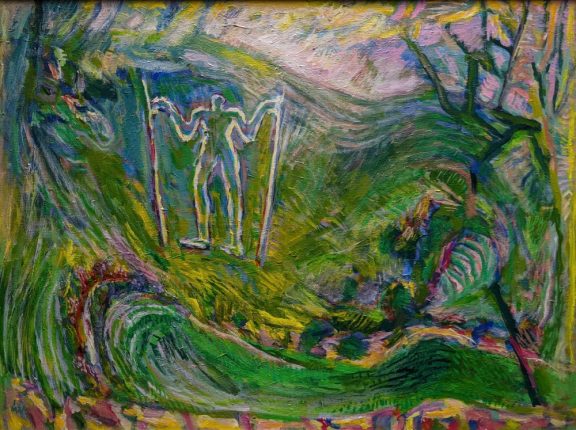 Milan Ivanic. The Long Man of Wilmington. Acrylic on canvas.
East Sussex
Milan's paintings from East Sussex, a landscape he has returned to frequently, include classic images including: The Long Man of Wilmington a giant figure cut into the chalk of the South Downs, and the white chalk cliffs, known as the Seven Sisters from Hope Gap Beach.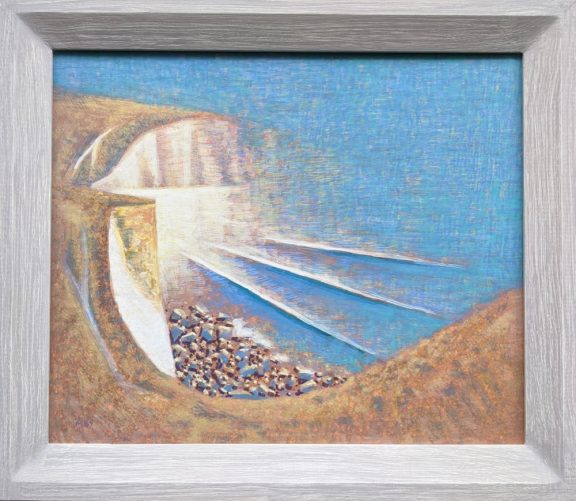 Milan Ivanic. Hope Gap - Seven Sisters - Seaford.
Tempera
Acrylic paint on canvas is Milan's current medium for painting, however a number of his earlier works are in tempera paint on panel, including his painting here of the waves breaking at Hope Gap Beach, beneath Seven Sisters chalk cliffs.
Tempera, also known as egg tempera is a method of painting where colour pigments are mixed together with a binder, this is traditionally egg yolk. Works painted using this method are fast drying and hold their colour.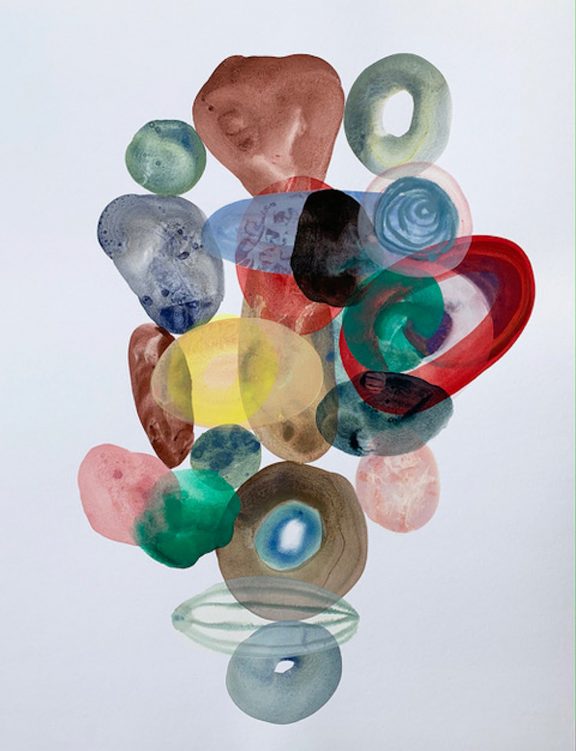 Ingrid Christie. Evolving Forms 4. Tempera on paper.
Ingrid Christie
Another artist who choses to use egg tempera is Ingrid Christie. Ingrid who is based in Lancaster, was shortlisted for the  John Moores Painting Prize in 2020.
Ingrid's interest in using tempera paint developed following a study trip to China in 2015. The residency there allowed her to explore different approaches to painting as well as different media. On returning to the North West she started to experiment using different painting techniques. Tempera painting became a chosen method for her large Evolving Forms series, a number of these works can be seen below. 
Alongside the tempera paintings Ingrid also paints in thick impasto oil paint. The ever changing landscape and seascape of Morcambe Bay is often the inspiration for these abstract studies. 
The Evolving Form series are made with egg tempera and pigments. I have been experimenting with handmade paints for the past three years, honing the original recipe found in a technical book on painting from the 1920's. My oil paintings are inspired by the local area and require a different approach to the tempera pieces. They are built with multiple layers of paint with many edits and can take months to complete. Between drying times I work on the tempera pieces. Both series, although unconnected visually, are constructed in an architectural manner. I'm always looking for a certain aesthetic, with focus on colour and form.'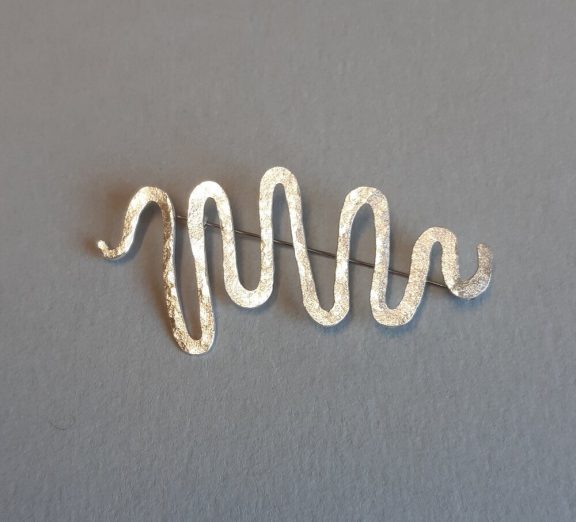 Anthony Feiler. Brooch - Silver with stainless steel pin.
Metal
There are two artists who currently have work on our website who work mainly in metal albeit on a very different scale.
Anthony Feiler
Anthony works from his studio i the city of  Bristol. He has always had strong connections with the county of Cornwall, especially the West Penwith peninsula. in recent years he has produced a body of work often influenced by the landscape and seascape of Cornwall.
I work with silver, gold, semi- precious stones, pebbles and enamel. All pieces are handmade in my workshop in Bristol.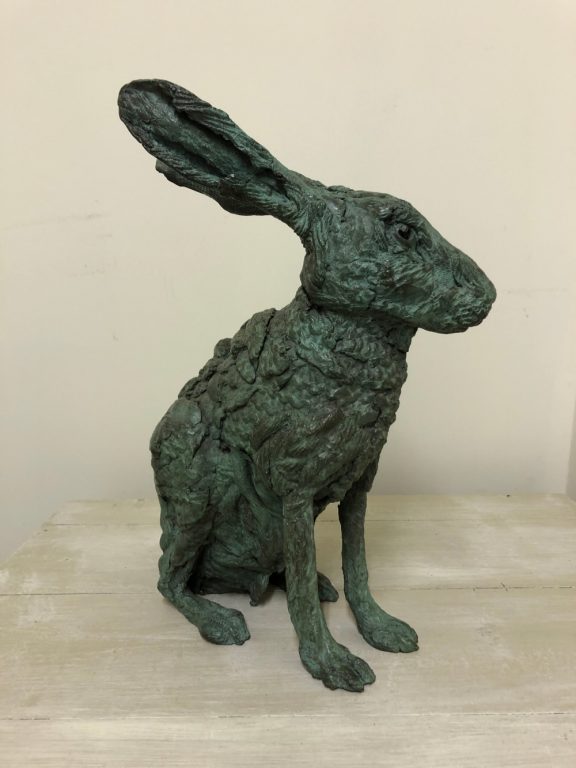 Marjan Wouda. Hare. Bronze.
Marjan Wouda
Marjan Wouda who has exhibited with Gavagan Art for a number of years is mainly known for her figurative work in bronze. In recent years visitors to Gavagan Art's exhibitions will have seen foxes, hounds, foals, hares and mythical creatures based on Lancashire folk tales. Larger scale public sculptures are also a feature of Marjan's work.These have been in various metals including steel, aluminium and recycled scrap metal. The most recent example of her public sculpture is her large scale steel Bowland Hare in Gisburn Forest in the upper Hodder Valley, Lancashire.
The artworks in this online exhibition are just a small example of the works on this website, please explore the site further.
______________________________________
OWN ART – All work by living artists is eligible for purchase using the OWN ART scheme, please ask if you are interested in considering using this or would like more information.
Please scroll down the page to see work included in this exhibition. Please click on an image to see further details including the size of the work and price. There is an Enquire button if you would like to ask for more details or to ask to purchase a particular work. Thank you – you can also telephone: 07799797961 or email: [email protected]
Work available in this Exhibition