Centrepiece – Winter 2021 / 22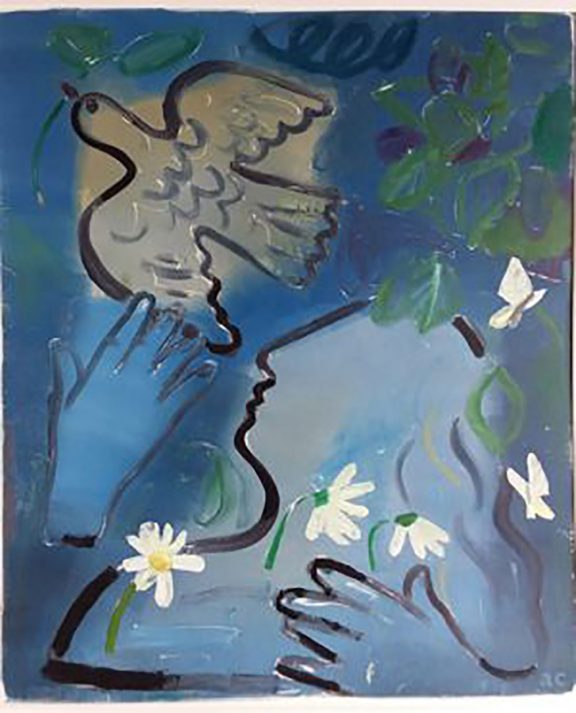 Adrienne Craddock. Eve and the Birds. Monoprint - framed
Centrepiece - Various Artists
If you are looking for a centrepiece, a large statement ceramic or a painting, drawing or print to be a focal point in a room, there are a number of art works both abstract and figurative available which you may like to consider. Alternatively if you are looking for small treasures there are a range of artworks which can be viewed.
These are just a selection from the unique works on our Gavagan Art website.
In recent months we have sent paintings and also ceramics and jewellery to various locations around Britain. Transport can be arranged for purchases both in the north of England and further afield.
Own Art can be used to purchase most work on our site please ask if you are interested in using this method to buy work, interest free.
The monoprint here by Herefordshire based Adrienne Craddock titled Eve and the Birds, recalls Picasso's Dove of Peace.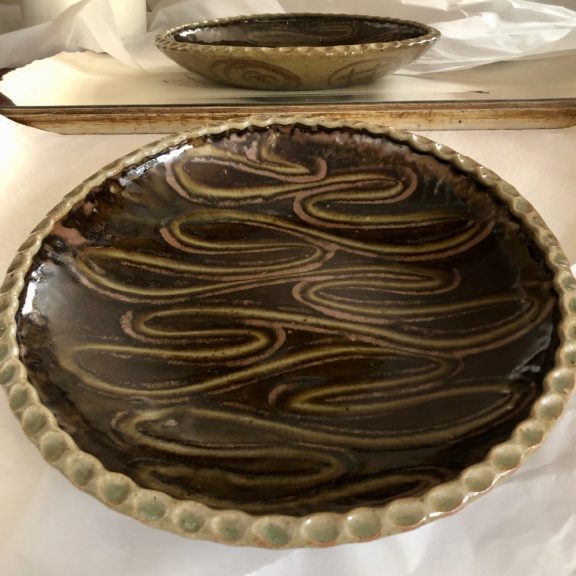 Edward Hughes. Large pressed dish. Wave design - design on reverse.
Ceramics Paintings Prints and Drawings
Ceramics
We have a number of larger ceramic works which would form a focal point in a room or table setting. The work here in this image is a large ceramic bowl by Edward Hughes. 1953 – 2006.
The potter Edward Hughes is considered to be one of the masters of the Anglo-Oriental stoneware tradition. Examples of his ceramics are in private and public collections including the Victoria and Albert Museum London and The Ashmolean Museum Oxford.
Other Works
Larger framed works highlighted here include six indian ink drawings framed as one work by Malham based Katharine Holmes:  Walks From Home 2020.
The large framed oil painting on canvas by Norman Adams RA, Light After A Storm, was painted in 1957, it was at this time that Norman and his family first settled in North Yorkshire. Another large oil on canvas painting of the Yorkshire landscape is a painting of the distinctive Dales landscape of Swaledale, this work is by Milan Ivanic.
There are a selection of works below.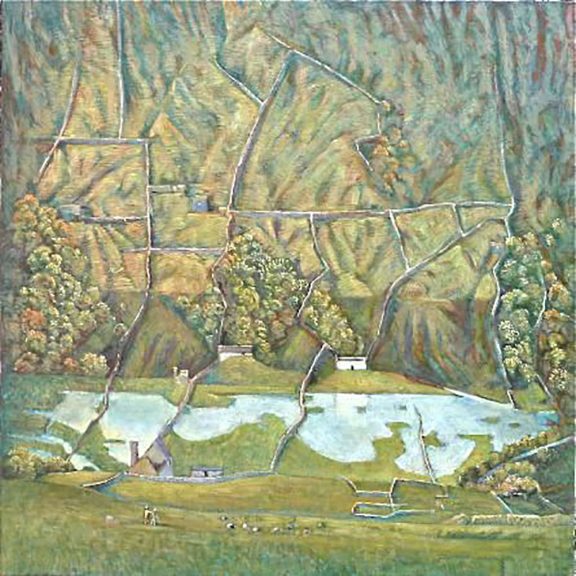 Milan Ivanic. Swaledale. Oil on canvas.
Milan Ivanic. Swaledale
Swaledale is one of the northernmost dales in the Yorkshire Dales National Park. Milan's painting here depicts the distinctive dry stone walls and field barns of this area.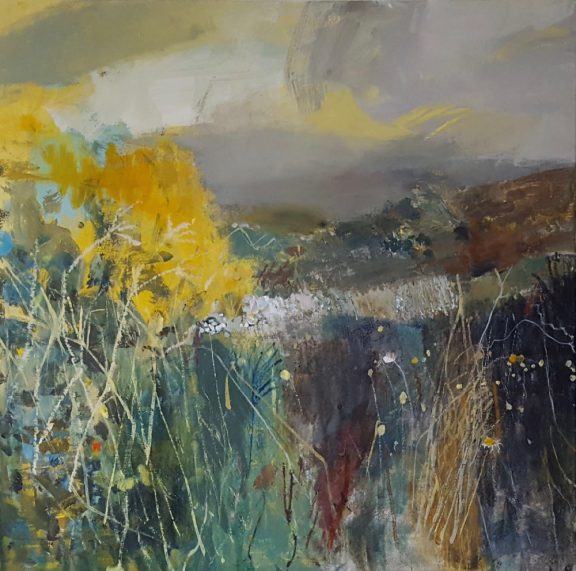 Jacquie Denby. Late Autumn Grasses. Mixed media.
Jacquie Denby. Late Autumn Grasses.
This painting highlights the rich mixture of autumn grasses in the upland hay meadows of the Yorkshire Dales.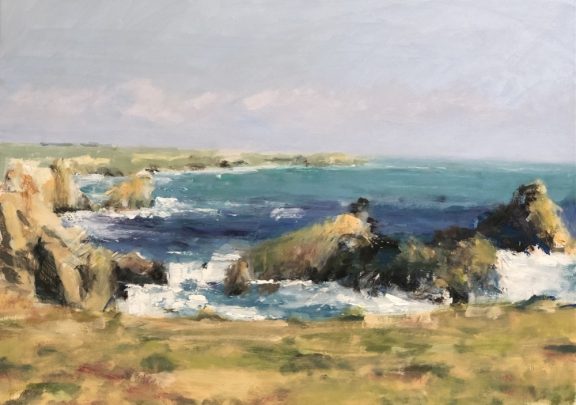 Donald Fenton. Kynance Cove, Cornwall.
Donald Fenton. Kynance Cove, Cornwall.
Donald Fenton lives and works in Darwen Lancashire. He studied Fine Art at Maidstone College of Art and Birmingham Art School. His primary subject matter is landscape. He has painted in various locations including Chamonix, Cornwall, Lancashire and the mountain scenery of Arran Scotland, for which he was granted an Arts Council award. Working in oil, watercolour and acrylic his work is in many collections. He has exhibited at the Serpentine Gallery London; the Museum of Modern Art Oxford; and the City Art Gallery Birmingham.
Work available in this Exhibition