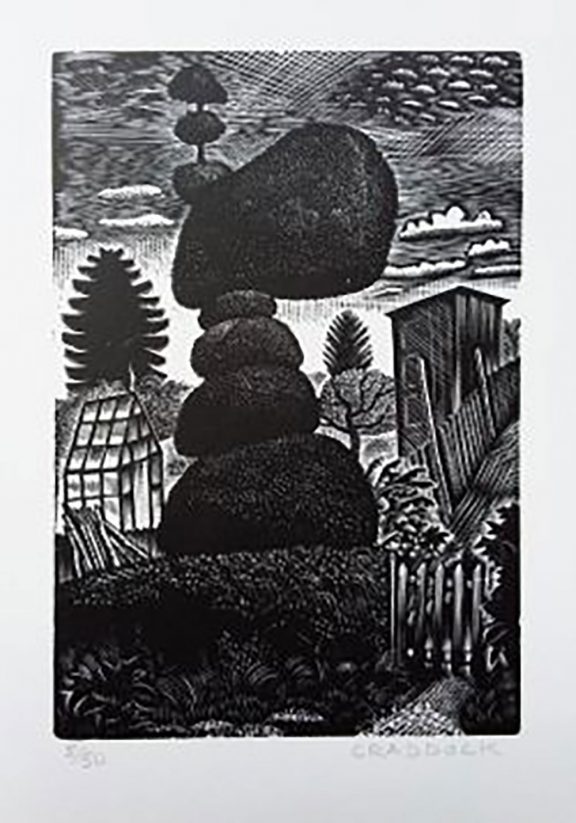 Kenneth Craddock
1911-1989
Born in Bolton, Lancashire in 1911, the youngest of six children, he first attended Bolton School of Art, then Manchester School of Art.
Kenneth was Principal of Hereford College of Art throughout the 1960s after working for a number of years as an illustrator for the Manchester Guardian. During World War two Kenneth worked for the aircraft company De Havilland as a designer drawing plans. He also designed information posters during the war and worked for a number of years as an illustrator at the Manchester Guardian.
He was a Fellow of the Royal Society of Arts and of Manchester Academy. He has work in Manchester City Art Gallery. He exhibited in the Royal Academy summer exhibitions.
Influenced and inspired by Eric Ravilious and Edward Bawden his paintings and wood engravings recall the nineteen fifties.
After numerous visits to Herefordshire where he stayed at a farmhouse in the countryside near Leominster, he fell in love with the county and applied for the post of Principal of Hereford College of Art in 1951.
The architecture and landscape of rural Herefordshire often feature in his work. A fine example is the wood engraving of the fourteenth century former drovers inn "The Rhydspence " which is situated on the Welsh border in the Wye Valley, near Hay-on-Wye.