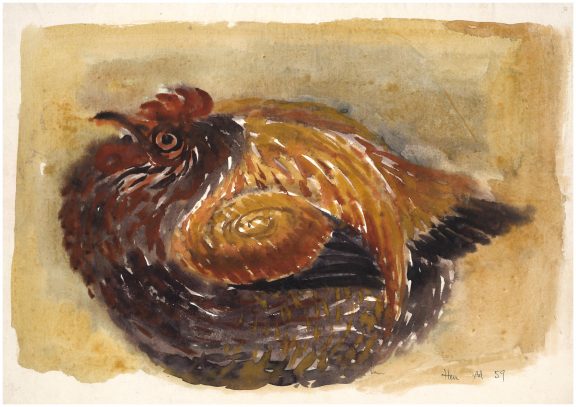 Anna Adams
1926 -2011
Anna Adams was born in London in 1926. She was educated at Harrow Art School, and Hornsey College of Art, and worked as a designer, a freelance artist and art teacher. In later years she devoted the greater part of her creative energies to writing.
 A published poet, Anna began to write seriously in both prose and verse in the early 1960s. Her first poem was printed in 1969 and Peterloo Press published her first book, A Reply to Intercepted Mail, in 1979 as part of its Peterloo Poets series. 
She produced various publications throughout her career, around  twenty books and pamphlets. Anna was poetry editor of The Green Book from 1989 to 1992. She was a member of Poetry Society and the Piccadilly Poets Committee.
Many people know Anna for the watercolour paintings of Ribblesdale and sensitive figurative works in clay. Her ceramic blackbirds are a striking example of her handling of clay and ability to capture the essence of the world around her. Examples of her ceramic blackbirds are on display at Blackwell The Arts and Crafts House, Windermere.
Her friend and publisher John Killick commented on two particular literary works:
There were two prose, poetry and art compilations of real distinction in Island Chapters (1991) and Life on Limestone (1994). The former stems from the decade that she and her husband and their two small children spent on the island of Scarp in the Outer Hebrides. The latter is a reflection of upwards of 30 years living in a converted farmhouse in the Yorkshire Dales.